Personal Mentoring
A completely tailored day based on your lifestyle and trading personality
---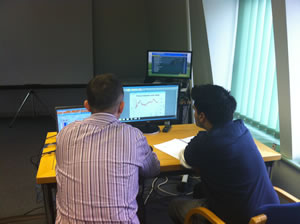 Our academy tutors are all trading professionals who were previous course attendees who have then gone on to be successful full time traders.
They been through the same learning curve as you are experiencing and they have been carefully selected to help you build a sustainable strategy built on solid foundations. They achieve this not only through their market knowledge, but also through through their friendly and co-operative tutoring style.
Your mentor will contact you to customise your session to suit your needs whether you're a complete newcomer to trading or someone who simply wants to get that extra something out of the markets. Key components of the mentoring are then blended to anticipate your current skills level and meet your objectives. Contact us today with your requirements and someone will get back to you to discuss your personally tailored mentoring.
There is no obligation at this stage and we will give you an honest assessment of whether personal mentoring will be suitable and you can discuss the various aspects of what you want to achieve with your selected tutor. Costs vary depending on your needs and can be just a day or multiple days in our offices.
---