Peter Webb's Trading Master Class
Get right to heart of key strategies and tactics
If you are interested in learning from somebody who played a pioneering role on betting exchanges and somebody that continues to trade for a living then this is the course for you!
Your tutor
Joined Betfair in June 2000
Analysed over 1,000,000 markets, Traded over 180,000 markets
Unrivalled knowledge and ability
Successfully traded hundreds of millions of pounds on Betfair
One of Betfair's top 0.10% of customers of all time
The only tutor who has his records proofed
What do you get?
The course is primarily focused on detailed discussion of how Peter trades horse racing markets. But the morning session will touch on a number of unique ways Peter sees, participates and profits in other markets. Peter is happy to examine whatever you wish with open questions and answers throughout the day.
The course
Full, intensive, one day course; lead by a real expert on the exchanges

Unique, original content created from over a decade of research

Focused on strategies and concepts and how the market works
Key strategies, styles explained and demonstrated.
Follow up video support via our new online site
The style
An open session with continuous questions, answers and feedback
An extensive 332 page 'trading bible' to take away
Key strategies, styles explained and demonstrated.
The venue and feedback
Professionally delivered class room course in our dedicated training centre
Strict limit on attendee numbers, you will not be packed into a hotel room and submitted to death by formality
The course has received first class feedback over a number of years
Content is always updated to reflect the lastest 
The classroom course
In this course,  you will have a unique opportunity to talk to and learn from an unrivalled expert on betting exchanges Peter Webb. 
The objective of this course is to give you some clear structure to your trading by clearly and specifically examining the markets, how they work and why they move the way they do and what to do about it. It will take you right to the heart of key strategies and tactics that the most effective players are using on the exchanges. Peter will show you examples in order to demonstrate key principles clearly.
You will see live as well as pre-recorded trading so that you will be able to see the theory translated directly into reality so you can see exactly how the market works, what to look for, when and how to avoid the most common errors. Over the course of the day, you will go from a broad view of the markets and then slowly narrow your focus so you can learn exactly why something is likely to happen.
We've analysed hundreds of thousands of events for over sixteen years to understand how the markets work in incredible detail. We aim to get the key messages across on the day and through all the follow-up material. From there, it's over to you!
This course is focused on strategies and tactics rather than the software, so it is advisable to get some use of software before attending the course.
Learn how this Cheltenham Gold Cup result was achieved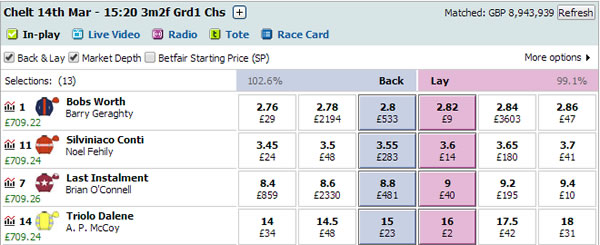 Peter used a very specific set up on this market to achieve this astonishing result. What did he do, why, and how can you spot the same setup? This specific example is explained during the course as well as how to spot similar set ups.
Course specifics
Full, intensive, one day course; lead by a leading expert on the exchanges.
Key strategies, styles explained and demonstrated.
Focused on strategies and concepts and how the market works
The main focus is trading pre-off on the horse racing markets.
An open session with continuous questions, answers and feedback
What key things can I learn?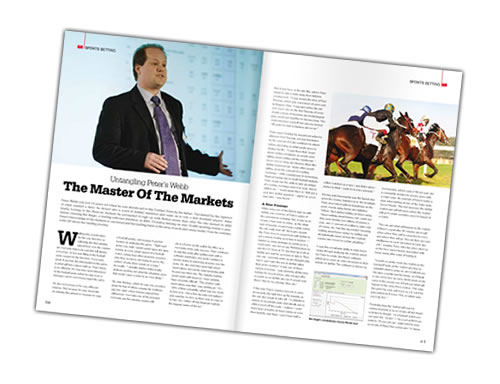 There is a significant amount of content available within the course but here are some of the things you will learn: -
If you traded at random how often would you have a winning trade?
How does time affect volatility?
When is the worst time to be in the market?
How often will orders fill without stop losses?
Where should you put a stop loss?
What are the most and least volatile races of the day?
Which markets to swing or scalp.
What's the difference between defensive and aggressive scalping?
How to get right to the front of the order queue.
How to determine whether you should back or lay first.
Where is the safest place to put an order in the market
How often and why should I scratch orders
About The Course
Topics Covered:
Money Management, Entry and exit points, How to identify when, why and how odds change, Finding the sweet spot in the market, Understanding how volume arrives, when and with what frequency, Understanding when and how volatile the market is and what to do about it. When to enter the market for maximum effect. Steps required to get yourself to a no lose situation. How to match markets to strategies.
Focus:
Our main focus on the day is horse racing markets. We will also touch on other markets. A lot of strategies do not rely on underlying knowledge of the sport and can be equally applied to any different events or sports. Each event though has its own style and method, which we will also discuss, but the processes and tactics you learn can be applied elsewhere.
Who should attend?
This course will appeal most to people who you have tried trading or are starting out but looking for some firm guidance as to what they should do. Established users can use the course to confirm if they are on the right track and new users can use the course to skip experimentation to get involved right away with key strategies. It helps if you understand the simple basics of trading before you attend this course and have use of some trading software. We can provide software if you don't already have some.
We start the day talking about money management, your core objectives when trading and expectation setting. We then move onto broader strategies before moving on to focus on specific markets and strategies that apply with in them. The course book acts as a useful reference point to follow through on the detail after the course is completed. The course is targeted at educating, filling out and cementing your understanding of how exchanges work and how to successfully use them. This is the knowledge that you can take away and put into practice.
About Your Host
This course is hosted by Peter Webb
Peter brings much experience to the course thanks to his extensive research and analysis on Betting Exchanges and the underlying markets on them. Peter is a very established speaker and writer on this specialist subject as well as being one of the most successful exchange users ever. Peter was also the founder of Bet Angel which has gone on to become the standard measure for exchange trading software.
Peter has partnered Betfair at various events across Europe where he has traded live to demonstrate key Betfair strategies. He is also one of Betfair's longest serving customers, having joined Betfair shortly after they first opened for business in June 2000. This has allowed him to build up unrivalled knowledge and experience of the markets.
Peter has consistently demonstrated his ability over a number of years. He has doubled a trading bank he was given at Royal Ascot in under three days, was featured in Racing ahead magazine with a 100% win rate for the Cheltenham festival and he traded live at the IX Investor show for Betfair where he earned £250 in just under ten minutes, live in front of a live audience.
Peter has appeared on the BBC and Bloomberg, CNBC as well as being a regular writer for national magazines for over a decade.
Peter comments...
"My objective is clear during any event, give the candidates the chance to learn from a professional and let them tap my extensive knowledge accrued over many years in order to get a short cut right to the heart of the matter. While I can't promise to transform you to a superstar in one day I can certainly point you firmly in the right direction. I want to give people the chance to learn why the market acts the way it does, ask questions and get answers to things that I was desperate to know when I was a rookie. I'll show you approaches and strategies that constantly deliver and examples of why each should be implemented. Each course is accompanied by a weighty course book which each attendee can use to follow through on specific points. Attendees can expect an enthusiastic and professional presenter who nearly always over runs!!!"